Minimum Quantity Lubrication (MQL) systems are an increasingly hot topic among lubrication specialists, with promises that the technology will change the face of lubrication in the machining sector forever.
The uptake of these lubrication systems has been impressive, particularly among large CNC machine manufacturers who claim to have transformed their processes and working environment with the implementation of this new equipment.
When operating under high speeds, high pressures and to fine tolerances; it is commonplace for engineers to completely avoid any lubrication system or operate a flood coolant system. A dry machining environment often leads to quickly and heavily worn tools, spoilt finishes and substantial associated costs. Equally, flood lubrication systems often result in their own range of problems, form an offensive odour and the health and safety concerns associated with a wet workplace to sever financial implications, accommodating for increased maintenance requirements, spillage management and cleaning.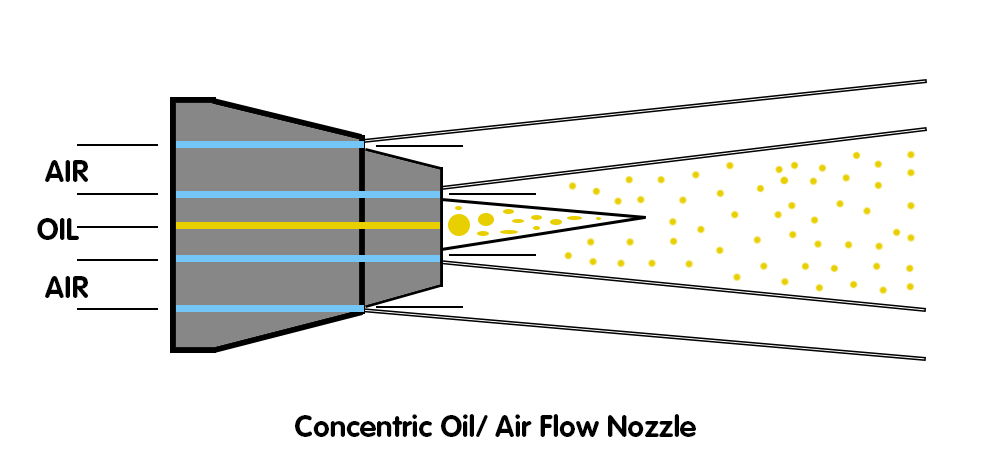 Operational Balance
The new MQL technology provides the solution, offering a viable alternative that removes many costly and time consuming hindrances, instead providing an economic solution with an ideal lubrication balance.
Machining with MQL is fast replacing wet machining processes as a cost saving and environmentally-friendly option. MQL systems dramatically cuts coolant costs compared to flood coolant systems, by using an aerosol at the required process point via a nozzle outlet, rather than flooding the work surface. This consequently results in a vast reduction in the volume of coolant used during the process. Financial gains are also realised through the improvement in system efficiency, lengthened tool life and reduction in downtime to accommodate for cleaning and maintenance requirements.
Considering the wider environment, MQL systems accommodate for the greenest of machining requirements. With a substantial reduction in excess oil and white water usage, the green, co-friendly solution is used entirely at the rate in which it is dispensed, almost eliminating the need to dispose of excess waste lubricant.
When compared to dry machining, MQL allows improved tool life and surface finish while maintenance requirements are minimised. A reduction of costs can be gained by tools lasting up to 300 per cent longer and the required maintenance time for swapping and replacing tools being minimised/ Protecting both the workplace and wider environment, MQL delivers direct benefits to improve the efficiency of the entire engineering process.
MQL in practice
Keencut designs and manufactures manual cutting machines of the highest standard. Operating a continuous design and development program the company takes pride in building the best, most efficient and reliable cutters and cutting machinery in the world.
Maintaining control of process and quality, all Keencut cutting machines are manufactured completely in Corby, England. Central to the company's philosophy, skilled and experienced technicians use the most progressive computer-controlled equipment and the business sources only the highest quality materials, with all products supported by a five-year guarantee.
Keencut machines lengths of aluminium extrusion of up to approximately 2.5 metres in length, long enough to extend both ends beyond the machine. The company approached HES Lubemec, the lubrication specialist division of engineering company Group HES, for a solutiom to their problem; flood coolant was running down the length of the aluminium into the workshop. This resulted in a costly and time consuming cleaning process. The engineers experienced particular difficulties with hollow extrusions when machining into cavity, as quickly the products became flooded with lubricant.
To eliminate these problems, HES Lubemec supplied Keencut with a LubriLean system, manufactured by global engineering giant, SKF. The self-contained air and oil MQL system disperses lubricant in an aerosol application using nozzle at the process point, fed with lubricant and atomising air via coaxial lines from a pressurised reservoir. The size and distribution of the supplied aerosol lubrication droplets are homogenous and controllable with LubriLean MQL, delivering a similar experience and result to dry machining while extending tool life by up to 300 per cent.
From an engineer's eye
Andy Roberts, technical manager at Keencut:" Before implementing the LubriLean system, we were struggling to accommodate flood coolant for machining oversize aluminium extrusions. The problem centred around the amount of time that was spent cleaning the flood coolant from the extrusions and the area surrounding the CNC machine, meaning that both production and machine time were being lost.
"It was becoming increasingly impractical as a way of working. We actively sought out a alternative but we equally couldn't work with dry machining, due to the tendency of aluminium to weld itself to cutting tools if not lubricated and cooled. When we heard about MQL systems, we approached HES Lubemec for some advice and guidance on whether these systems would work for us."
"We have been amazed by the results. Using the LubriLean unit is the closest thing to dry machining, without the drawbacks. If ever there's an overspray, it is such a small amount that we can wipe it off with a cloth. Health and safety has been hugely improved, removing the slip risk which was often prevalent, particularly when trying to remove the wet extrusions from the machine. With LubriLean, there's not a single drip."
"The whole process is markedly easier, more manageable and more efficient. Our estimation is that we have saved between 5 to 10 per cent of the overall process time by incorporating an MQL unit, dramatically improving what was a previously messy, unpleasant job."
From a supplier's standpoint
MQL systems have attracted substantial attention throughout the industry recently, becoming recognised as one of the most cost effective and eco-friendly lubrication solutions for many applications. The technology really does transform engineering processes, delivering ease, accuracy and reduced environmental impact, avoiding health and safety concerns associated with flood lubrication systems. With an MQL system, engineers benefit from tremendous improvements in tool life and maintenance requirements, particularly in a high pressure environment, compared to what can be achieved with a dry machining process.
As is the case with Keencut, the installation and operation of an MQL system often saves extended labour hours for cleaning and maintenance. The units offer clean, effective and self-sufficient lubrication, meeting the key criteria for any engineering workshop.
It is important that manufacturers and suppliers understand their customers and appreciate their requirements at ground level. The introduction of MQL systems meets the growing demand in the market, offering customer satisfaction though a whole range of real benefits that make a difference to their day to day operations.
HES Lubemec are your UK premier partners for SKF lubrication systems, including the brands Lincoln and Vogel. For more information on your lubrication system needs please email enquiries@grouphes.com or call 01452 733 104.