When it comes to picking the best way to deliver lubricant in the production environment, maintenance teams are faced with multiple choices. Outlined below are options and recommendations on how to go about making the right choice.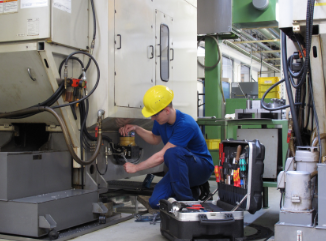 Lubrication is a fundamental maintenance activity, yet poor or non-existent lubrication is the root cause of up to three-quarters of industrial equipment breakdowns. While it may be fundamental though, lubrication is in no way a trivial task.
Accessing hundreds, or possibly even thousands, of separate lubrication points in equipment distributed around a plant or factory, is potentially very time-consuming. It may be tempting to cut corners, over-lubricating here, missing a hidden or difficult-to-access lubrication point there, but these are bad practices that will inevitably lead to problems down the line. In addition to simply over- or under-lubricating, using the wrong lubricant can damage equipment or shorten the operating life of components. Spilled lubricant can also contaminate your product or create health and safety problems.
Manual lubrication is still commonplace, and unlikely to ever be fully replaced by some of the more sophisticated automated processes available today. However, it is frequently applied in an arbitrary way, often dictated by ad hoc maintenance scheduling or even guided by lubricant availability.
While periodic manual lubrication is likely to remain the best option in the majority of cases, companies can save time and improve results by using better designed tools for this task, like the cordless Lincoln PowerLuber grease gun range from SKF. This delivers precisely metered quantities of lubricant at the touch of a button, reducing waste and the risk of over- or under-lubrication.

The latest generation of PowerLuber grease guns is available in 12, 18 and 20V models covering applications from light workshop and hobby use through to the most demanding production environments. The more powerful 20V PowerLuber, for example, includes an electronically controlled two-speed motor that delivers precise 85g or 170g shots of lubricant at the touch of a button and working at pressure of up to 10,000psi, to ensure effective lubricant penetration.
But what about those critical assets that may be difficult to access, or require lubrication at a frequency that doesn't match planned shutdown or maintenance intervals, or which might be subject to lubrication requests as the result of a condition monitoring system prompt? In this case, it may be appropriate to consider automating the lubrication process with permanently installed systems that will deliver lubricant in precise quantities, as and when required. These systems are available to suit any size of application, from a single bearing which receives small quantities of a suitable lubricant from a local reservoir at pre-set intervals, to an entire plant with hundreds of separate lubrication points.
The most advanced modern lubrication systems have a high degree of built-in intelligence. They can adjust lubrication rates according to machine utilisation, for example, and monitor their own performance, alerting operators if there is a problem with lubricant supply.
They are increasingly flexible too. The new Lincoln EDL1 electrically-driven lubricator, is a compact, programmable pump that can be installed directly on a machine. Here it can inject grease to the connected lubrication system or lubrication point at a pressure of up to 280bar. The EDL1 operates without the need for a separate compressed air supply and can be fed by a single low-pressure lubricant feed line. This greatly simplifies the pipe-work required in large installations and makes reconfiguring the lubrication system easy if a plant is altered or upgraded.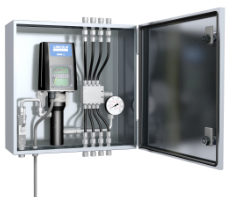 The device incorporates an electrically-driven piston pump with an integrated control board. This manages the lubrication cycle based on pre-set time intervals or via signals generated by an external sensor or control system. Up to three EDL1 units can also be managed using SKF's new dedicated LMC301 controller. Local control of lubricant delivery is particularly useful in applications where lubricant requirements or operating cycles differ significantly in different parts of a plant.
Designed for use with pumps that have no built-in controller, the LMC 301 combines all critical lubrication system management functions in a single package, simplifying system setup, operation, monitoring and maintenance. The unit is able to cope with a variety of lubrication scenarios: for example, systems that require different lubricant types or lubrication cycles on different parts of a machine; lubrication intervals based on time or number of machine cycles; or combinations of normal and heavy lubrication cycles depending on operating conditions.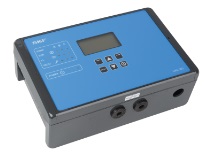 The LMC 301 can control up to three pumps and manage three different lubrication zones per pump, allowing users to define up to nine separate lubrication zones. However, if automated lubrication is required at a large number of separate points, it might prove beneficial to centralise the entire process using systems such as SKF MonoFlex or Lincoln Centro-Matic. These use pressure pumps and a network of distribution pipes and valves to deliver lubricant to hundreds of lubrication points across a machine or an entire production line.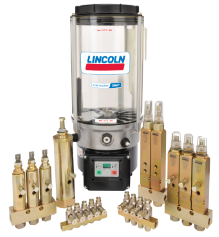 Many technologies are available to improve an operator's lubrication practices but there's no one right answer for every production line or equipment type. There are many other factors at play, and operators must choose which is best suited to their particular operational needs. Ultimately, picking the right lubrication strategy will pay dividends, reducing incidences of unplanned downtime and prolonging the service life of valuable assets.
HES Lubemec is your UK official agent for SKF and Lincoln lubrication spares and systems. We can help you decide what the best form of lubrication is for your requirement. With extensive experience of various lubrication systems, you can rely on the HES Lubemec team to help save you money. Call the team directly on 01452 733 104 or email enquiries@grouphes.com to discuss your lubrication needs.