For 40 years Hydraulic Equipment Supermarkets have been distributing top branded hydraulic components on Bromford Lane in Birmingham. As the company has evolved so must the Birmingham branch.
The decision was made to move to bigger and better premises, to provide customers with same-day access to a bigger range of products, better service offerings and an all-around improved customer experience.
The new site will function as a Group HES premises. What that means is that it will become a site where any of the five divisions of Group HES will operate from. The five divisions of the Group are: Hydraulic Equipment Supermarkets - selling all types of hydraulic components, Branch Hydraulic Systems - manufacturers of bespoke and standard power units, HES Tractec - specialising in agricultural, construction and waste industry parts, HES Lubemec - lubrication solutions and systems and HES Automatec - experts in automation and motion control.
The new site at Unit 3 Cheston Road, Aston (B7 5EA) is the ideal choice; a central location in an industrial area with great travel links for easy access for customers, a larger car park with disabled spaces, room for hydraulic servicing work to be offered, a larger trade counter and warehouse for extra selection and room to employ more staff to better serve customers' needs.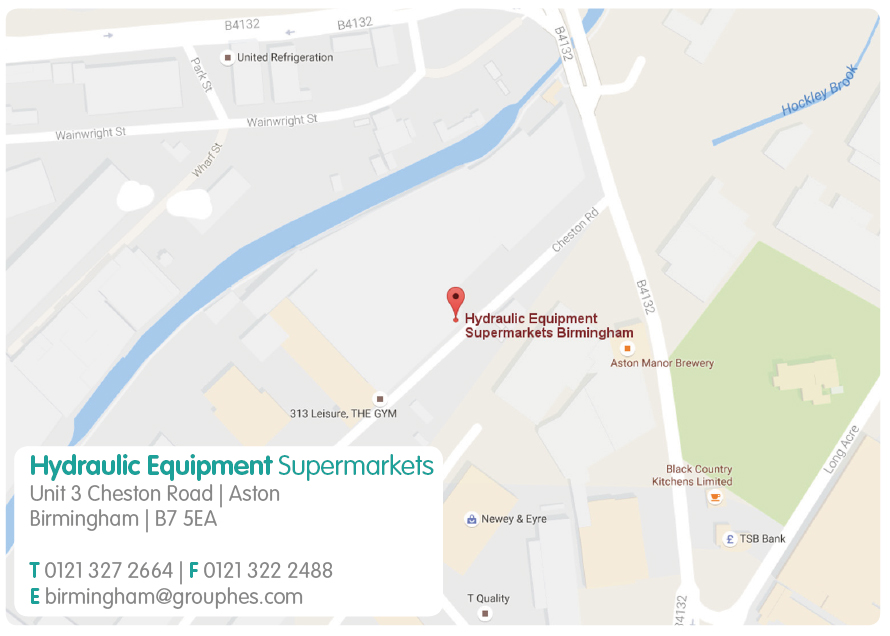 The Birmingham branch is one of four sites across the UK, with offices in Gloucester, Durham and Leeds as well. Historically the branch network has traded solely as outlets of the Hydraulic Equipment Supermarkets division. The transition to offering the whole Group's portfolio has already been successfully implemented in the Leeds office and at the head office in Gloucester.
In order to drive this strategy forward, we are looking for a new Group Branch Manager for the Birmingham site - see the job advert here. If you are interested in applying please email vacancies@grouphes.com with your C.V and cover letter. We do have a very strict NO RECRUITMENT AGENCY policy so we ask for direct applications only.