From pump control to diesel engine monitoring, digital communication has vastly improved engineering efficiency, says Alex Tatlow, technical director at Group HES, the parent company of Branch Hydraulic Systems.
With benefits ranging from huge increases in the quantity of data transfer, improved flexibility and upgrade paths to simply reducing the complication and physical weight of excessive wiring, it is no surprise that digital communications are becoming more widely used by engineers.
Organisations have found that digital control systems can become costly across small projects, requiring both an expensive network master and subsequent slave units. This is often the case when used with hydraulic solenoid valves which have notably higher current demands compared to pneumatic valves.
Building a machine which requires the inclusion of equipment from both sectors creates a minefield of mismatched signals
There is a wide selection of programmable logic controllers (PLCs) and other control components available for industrial machinery and similarly a wealth of digital controllers in the mobile equipment sector, but the style, control signal, network systems and communication standards differ. Building a machine which requires the inclusion of equipment from both sectors creates a minefield of mismatched signals. Bridging the gap can be notoriously problematic, expensive and time-consuming.
A technologically proven solution to many problems is available with a range of digital controllers which function independently across all these forms of communication. At Group HES, we use Sauer Danfoss Plus +1 controllers.
Hydraulic proportional valve control
Hydraulic proportional valves from the mobile market often offer advantages over industrial valves, including a compact and cost-effective assembly, especially when additional built-in functions are required, such as pressure compensation and load sensing. Many of these valves require a control signal of 25% to 75% of the supply voltage.
The Plus+1 controller is specifically designed for these valves with the required function blocks already written, so even a basic controller can be set up quickly to interface between a 0-10V signal and the PVG signal on 5 channels with spare I/O available. This also allows for additional error checking or control functions to be programmed into the controller.
Hydraulic pump control
Many modern variable displacement hydraulic pumps are now available with direct electrical control, allowing the control system to improve machine performance and reduce energy consumption. Some pumps require signals in the range of 14-80mA, which most PLCs will not be able to produce. The Plus +1 controllers can produce these signals natively and, with a Plus +1 compliant pump, function blocks will already be written, making this a quick and easy process.
Likewise, many modern diesel engines are now only available with a CAN connection using the J1939 standard protocol for communications. Even for those with a CAN connection, the PLC is unlikely to have function blocks for J1939 communication. The Sauer Danfoss Plus +1 range of controllers already have a large number of function blocks available for J1939 communication, so actions such as throttle control through PGN 0 and engine data readings including engine speed (PGN6144-SPN190) and oil pressure (PGN 62563-SPN100) are easily configured to convert to or from 0-10V signals for communication with the PLC.

The Plus +1 controllers can typically drive up to 3Amps on their analogue outputs. When using a number of non-feedback valves the Plus+1 controller can be used to simultaneously drive these valves giving a compact cost effecting solution whilst allowing zero, deadband, gain and dither frequency and amplitude adjustment as well as additional control logic including closed-loop PID control with high (circa 3mS) refresh rates. Once again, if the valves are Plus +1 compliant, function blocks are available to make this an easy process.
Technical fit
The Sauer Danfoss Plus +1 controllers are capable digital controllers in their own right and may result in the removal of the traditional PLC. In other cases, a Plus +1 controller will allow you to use a lower specification PLC to carry out digital control while conducting high speed closed loop control within the Plus +1 controller.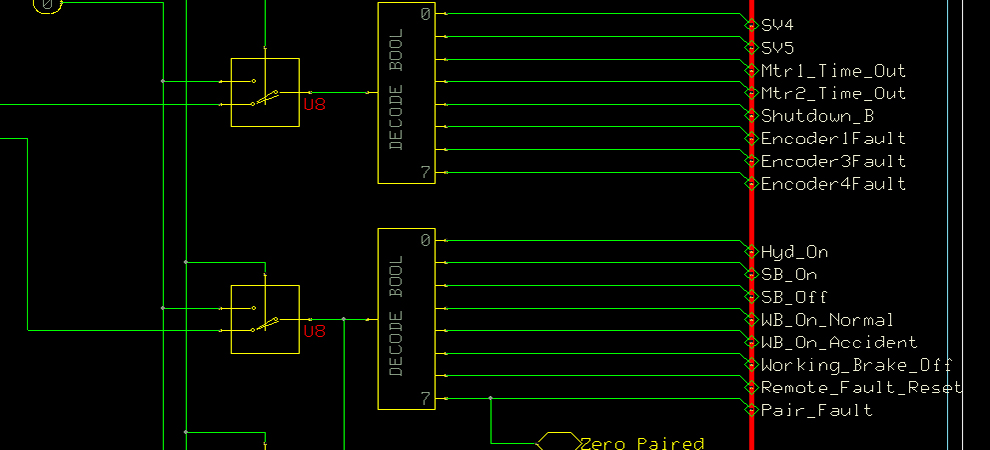 The controllers are fully programmable with high performance I/O allowing many signal types to be read, in addition to digital and several types of analogue output. They are programmed and networked via CAN bus, enabling complex control systems to be constructed. The larger controllers have two CAN interfaces, allowing the segregation of different networks, and all are capable of using the J1939 function blocks. The range of available displays are also programmable and will display parameters from other Plus +1 devices on the network, or alternatively, pick up J1939 messages such as those for engine oil temperature and speed.
With systems starting from approximately only £300, it should be noted that these controllers provide an ideal fit for many technical problems faced by industry engineers, across these previously problematic applications.
For further details contact the company on 01452 730774 or email enquiries@grouphes.com
Key Points
Hydraulic proportional valves offer compact and cost-effective assembly
The Plus+1 controller is specifically designed for these valves with the required function blocks already written
The controllers are fully programmable with high performance I/O allowing many signal types to be read