Branch Hydraulic Systems, part of Group HES, are expert engineers and have the talent and experience that make them the obvious choice for your next hydraulic power unit. They have designed, built, installed, commissioned and serviced a HUGE variety of hydraulic power units using specialist fluids.
This diesel unit is operated by a driver and is used to clean the bottom of ships without the need for them to be put in a dry dock.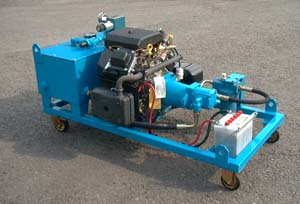 The unit was designed to fit in a small can and to be mobile enough to be pushed on a dockside by a single person.
If this is something of interest to you or you have your own hydraulic power unit need please do not hesitate to contact us on 01452 730562 or email enquiries@grouphes.com or visit the Branch Hydraulic Systems' page.